1, printed circuit board market size
In recent years, with the introduction of advanced technology and equipment from abroad, China's printed circuit board industry has developed rapidly and its output value has grown rapidly. At present, China has become the world's fastest growing output value of printed circuit board. Data show that the output value of printed circuit boards in China increased from 29.716 billion US dollars in 2017 to 35.249 billion US dollars in 2020, with a compound annual growth rate of 5.9%, higher than the global average growth level. The output value of printed circuit boards in mainland China accounted for 53.8% of the total output value of the global printed circuit board industry in 2020, rising from 31.1% in 2008, ranking first in the world.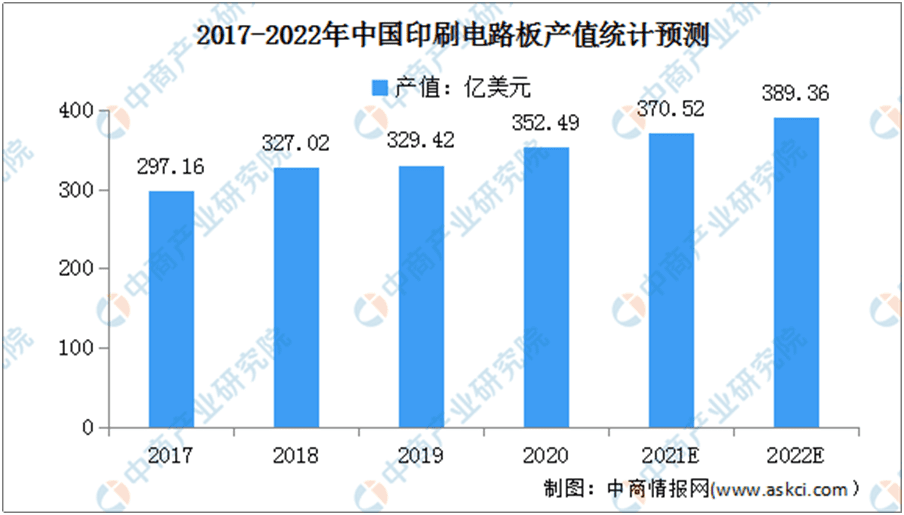 With the rise of Domestic printed circuit board brands in China, domestic enterprises actively expand production. On February 9, 2022, Shennan Circuit (111.120, -1.64, -1.45%) disclosed that the company issued 23.6945 million shares to 19 specific objects at the issuance price of 107.62 yuan/share, raising a total of 2.55 billion yuan. Mainly used in high-order flip chip IC onboard product manufacturing projects, to enhance the company's core competitiveness, improve the level of revenue and profitability; On February 8, 2022, the board of Directors of Xingsen Technology (12.050, -0.06, -0.50%) reviewed and approved the Proposal on Investment and Construction of Guangzhou FCBGA Packaging Substrate Production and R&D Base project, and will invest about 6 billion yuan in two phases to build an FCBGA packaging substrate intelligent factory with a monthly production capacity of 20 million pieces. The investment project is expected to become a new growth point of the company.
It is estimated that the output value of the PRINTED circuit board industry in China will reach usd 38.936 billion by 2022. Prismark also estimates that the output value of the printed circuit board industry in China will reach USD 46.04 billion by 2025, accounting for more than half of the global output value.
2, printed circuit board subdivision product structure
At present, China's PCB subdivision products mainly include multi-layer board, soft board, HDI (high density connection board), double panel, single panel, packaging substrate six types. Data show that the multilayer board in China's printed circuit board subdivision products accounted for the largest proportion, up to 45.97%, far more than other products; Followed by soft board, accounting for 16.68%; The proportion of HDI was 16.59%. In addition, the proportion of double panel, single panel and encapsulated substrate was 11.34%, 6.13% and 3.29%, respectively.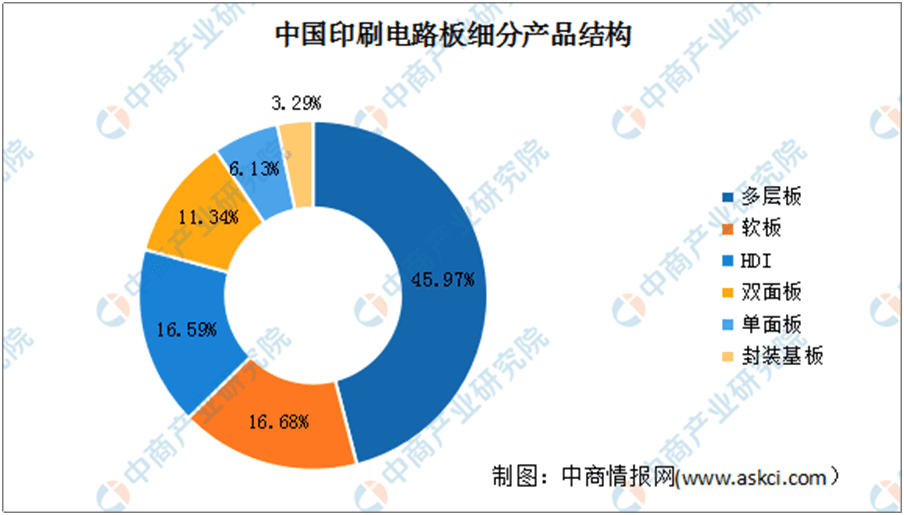 3, PCB downstream application market share
The main applications of PCB include communication, computer, automotive electronics, consumer electronics, industrial control, lighting, military aviation, medical devices and other fields. The development of downstream industries represented by new energy vehicles, servers, IC board, Mini LED and so on is the driving force for the growth of PCB industry. From the downstream application of printed circuit board market proportion, at present China's printed circuit board in communications, computer applications accounted for the largest proportion, respectively reached 30%, 26%. Secondly. Automotive electronics and consumer electronics accounted for 15% and 13% respectively. The continuous innovation and development of electronic terminal products promote the emergence of new electronic products in the market, which is beneficial to the stable development of printed circuit board industry.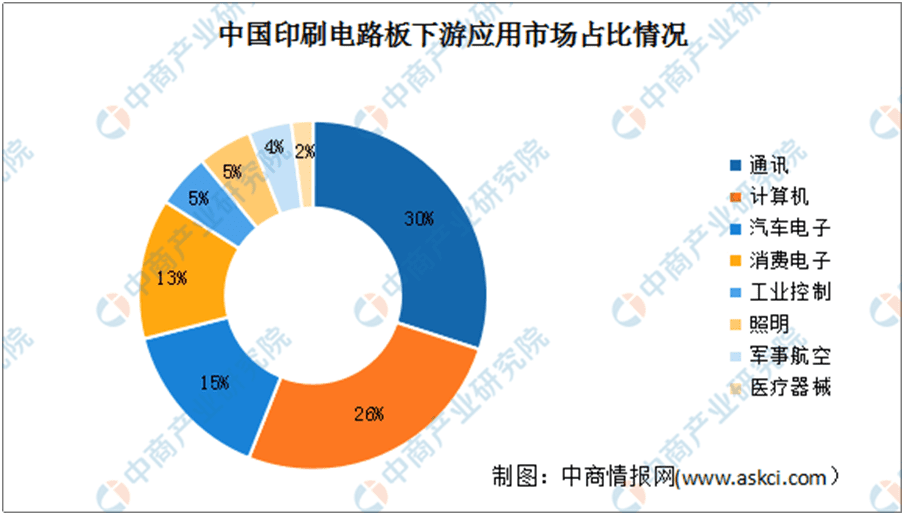 New electronic products in addition to excellent PCB support, but also need appropriate, high-quality components for your PCB escort. However, the procurement of electronic components is a major problem faced by the majority of electronic enterprises. The process is time-consuming and laborious, and the efficiency is very low.
Zhixin: Prospects of PCB industry in 2022
1. Favorable policies for the development of printed circuit board industry
As an essential component of modern electronic equipment, printed circuit board plays a key role in the electronic information industry chain. Therefore, Chinese government and industry authorities have launched a series of industrial policies to support and encourage the printed circuit board industry. In addition, "high density interconnect laminated board, single, double and multi-layer flexible board, rigid flexible printed circuit board and sealing board, high density and high fine line (line width/line spacing ≤0.05mm) flexible circuit board" are listed in the list of industries to encourage foreign investment. It is also proposed to further implement intelligent manufacturing and green manufacturing projects, develop a new mode of service-oriented manufacturing, and promote high-end, intelligent and green manufacturing. We will foster advanced manufacturing clusters, and promote the innovative development of integrated circuits, aerospace, shipbuilding and ocean engineering equipment, robotics, advanced rail transit equipment, advanced electric power equipment, construction machinery, high-end NUMERICAL control machine tools, medicine and medical equipment.
Good policy can promote the development of the printed circuit board industry, but ultimately it must be rooted in the self-requirements of enterprises to be able to last. With the development of PCB to new products and high-end industry, the quality requirements of PCB are also increasing.
2, the stabilization of raw material price volatility is conducive to the improvement of the profitability of the printed circuit and the board industry
The material cost of printed circuit board accounts for up to 60%, among which copper clad board (CCL) accounts for the highest proportion, accounting for about 30% of the cost of printed circuit board. Copper foil, electronic grade glass fiber cloth and epoxy resin account for 42.1%, 19.1% and 26.1% of the cost of copper clad board respectively, and the total cost accounts for nearly 90%.
Copper prices began to rise from April 2020, and reached the peak of 10,725 USD/ton in May 2021. Then they entered the stage of fluctuation and decline, and are currently between 9000-10000 USD/ton. It is expected that the price will further loosen in 2022. In 2021, the price of epoxy resin will be in a state of sharp fluctuation and rise, currently about 27,000 yuan/ton. With the introduction of environmental protection equipment and better foreign climate, it is expected that epoxy resin will gradually fluctuate and stabilize in the future. Electronic yarn accounts for 90% of the cost of electronic fiberglass fabric. According to Zhuochuang Information, since October 2021, the price of fiberglass yarn has gradually started to fall, with the overall offer already less than 17,000 yuan/ton. At present, the market price of 7628 electronic fabric downstream on the market has dropped to about 6 yuan/meter.
As the prices of the three major raw materials gradually fluctuate and stabilize, the price increase of copper clad plates will slow down, and the profitability of the PRINTED circuit board industry is expected to improve.
3, the development of new technology to promote the PCB capacity improvement, and technological progress
The rapid development of new technology promotes the increase of PCB production capacity. With the maturity of 5G, cloud computing, AI and other new technologies, the construction of data centers is accelerating, and server shipments continue to rise. According to IDC, the global server shipments in 2020 will reach 12.2 million units, with a shipment value of 91.01 billion DOLLARS, and the trend will continue to grow in the future. Server demand drives the PCB incremental market, with Prismark forecasting that the global output value of server PCB will grow from $5.692 billion in 2020 to $6.765 billion by 2024.
The rapid development of new technology promotes the development of printed circuit board technology. 5G high frequency technology puts forward higher requirements for circuits, and communication frequency band is further improved. In order to adapt to the demand of high frequency and high speed, to cope with the problems of millimeter wave penetration and fast attenuation, the performance of printed circuit board will continue to develop, find substrate materials to meet the high frequency application environment, to achieve a qualitative leap in China's printed circuit board industry.
In the future, China's PRINTED circuit board industry is expected to enter a new cycle of technology and products under the environment of accelerating penetration of emerging technologies such as 5G communication, cloud computing, big data, artificial intelligence, industry 4.0 and Internet of Things.
4. Downstream applications drive the development of printed circuit board industry
In order to adapt to the development of the downstream electronic equipment industry, enterprises in technology research and development and equipment investment continues to increase, the PRINTED circuit board is also constantly to the direction of high precision, high density and high reliability, constantly reduce the volume, improve performance. The application of printed circuit board is more and more extensive, especially in the field of automotive electronics, printed circuit board in its power control system, safety control system, body electronic system, communication these four systems are used. At the same time, with the development of autonomous driving technology and new energy vehicles, automotive printed circuit boards will usher in a golden period of development. According to the data of China Automobile Association, in December 2021, China's new energy (4.230, 0.03, 0.71%) vehicle sales reached 531,000 units, with a year-on-year growth of 114.11% and a year-on-year growth of 18%. China Automobile Association predicts sales will exceed 5 million in 2022. The three core systems of batteries, motors and electronic controls in neVs are increasing the demand for printed circuit boards (PCBS), which Prismask predicts will be worth $8.8 billion globally by 2024.
It can be seen that the rapid development of the electronic equipment industry will further drive the development of the printed circuit board industry.
5, IC board is expected to become a gold circuit in the printed circuit board field
According to Prismark, the scale of global IC carrier industry will reach usd 12 billion in 2021, and is expected to reach USD 16-17 billion in 2025. Assuming that the market penetration rate of domestic IC carriers increases from 4% to 6%, the scale of China's IC carrier industry is expected to reach RMB 7 billion in 2025.
In addition, printed circuit board solutions are the mainstream solutions for Mini LED substrates. According to CINNOResearch, shipments of Mini LED backlight modules will reach about 170 million units in 2025, and the market size of printed circuit boards for mini-led is expected to reach $3.4 billion.